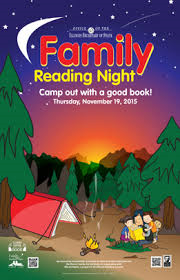 Join with families across the state as we celebrate Family Reading Night from 6-7 p.m. on Thursday, Nov. 19 at Bertolet Memorial Library.
Family Reading Night is an annual statewide event held the third Thursday in November to encourage families to spend quality time reading together.  This year's theme is "Camp Out with a Good Book" so drop in to share camping stories, snacks, and a craft.
You'll also have the opportunity to make holiday cards that will be sent to soldiers serving abroad during the Christmas season.
We hope to see you around the "fire."